About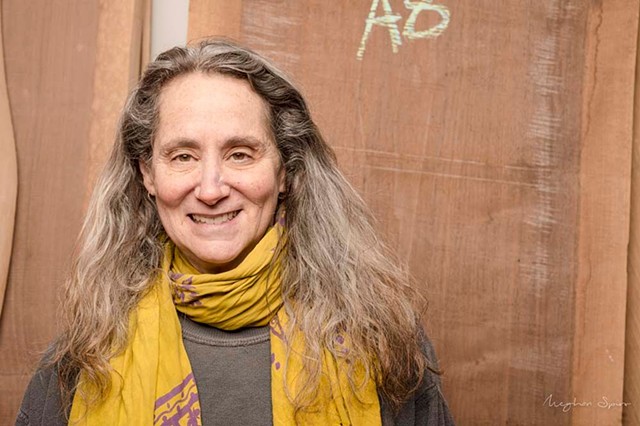 Beth Bolgla is a visual artist living and working in New York City. Her studio is located in the Bushwick area of Brooklyn, NY. There she maintains a vibrant studio practice and a showroom of her work.
Beth received an MFA in Ceramics from Georgia State University in 1978. After receiving her MFA she set up a pottery studio in Atlanta, taught pottery at Callanwolde Fine Arts Center and was part of a very active and committed group of potters in Atlanta who talked, ate, and slept pottery 24 hours a day. She worked primarily as a ceramic artist until 1985, when she began painting. She transitioned from glazed kitchen pots to sculptural oil painted clay vessels, to painting images of pots with oil paint on canvas and oil pastels on paper. She also began painting images of figures and flowers, and moved her studio to Nexus Contemporary Arts Center, in Atlanta. She found herself surrounded by some of the best artists in the southeast and has maintained close contact with many of the artists she worked with at Nexus. She received two Artist Project Grants from the Bureau of Cultural Affairs of the City of Atlanta and three grants from Georgia Council for the Arts, designed and produced a line of terra-cotta kitchenware for Dean and Deluca's in New York, and has completed numerous painting commissions. In 1988, her work was selected for the "Big Art" billboard competition sponsored by the Arts Festival of Atlanta.
Beth moved to New York in 1989, and shortly after that had her first child, a boy who she named Ben. She continued working in the studio on commissions and other work. In 1991 she designed over 75 puppets and masks for an original theatre production on the life of Frida Kahlo, entitled "Frida", that was produced by the American Music Theatre Festival in Philadelphia, the Next Wave Festival at the Brooklyn Academy of Music, and the Houston Opera Company. During the same year she moved into a studio at 41 Union Square, a building in NYC that has been occupied by artists for over 100 years. In 1993, Beth gave birth to her second child, a baby girl named Isabel.
In March of 2000, Beth was invited by the U.S. State Department in Syria to participate in the "Second International Women's Art", an exhibition in Aleppo, Syria. She was also invited to conduct workshops for women artists in Damascus and Aleppo and for students at the University of Damascus. After a three-week stay in Syria, she traveled to Saudi Arabia, where she was also invited by the U.S. State Department to conduct workshops for women artists.
In 2001, Beth and her family moved from the city to their house in the Catskills and Beth had a pottery and painting studio on that property. She continued making and exhibiting her work, and in 2005 was hired as ceramic studio manager at Garrison Art Center, in Garrison, New York, where she began making functional pots again and teaching. In addition she maintained vegetable and flower gardens over much of their property until 2009 when her house and studios were destroyed by a fire. Although devastated by such a big loss, she and her family turned this loss into an opportunity, and moved back to New York City. She's moved her studio a couple of times over the almost ten years since she's been back in the city and feels very at home in her current studio neighborhood of Bushwick, where she's been for the past 3 years.
Although Beth is currently working primarily in clay, she continues to work on oil paintings on canvas and still does lots of drawing on paper. She has recently begun painting with slips, underglazes, and glazes on clay in the mode and style that she painted on canvas and paper. She is reviving some of the canvas and paper images on the clay surfaces that were destroyed in the fire. These wall pieces become more like objects with focus on their physicality rather then their flat 2 dimensional properties.
In 2017 Beth was invited to participate in The International Ceramic Exchange in Aarhus, Denmark. She collaborated with a ceramic artist from Belgium for the exhibit.
Since 1977, Beth has had seven solo exhibitions and has participated in over 30 group exhibitions. Her work is in the collections of The Ogden Museum of Art in New Orleans, Louisiana and The Morris Museum of Art in Augusta, Georgia. Individuals, institutions, and corporations nationally as well as in Denmark, Norway, Sweden, Switzerland, Australia, New Zealand, Aruba, Oman, Saudi Arabia, and Syria have collected her work.